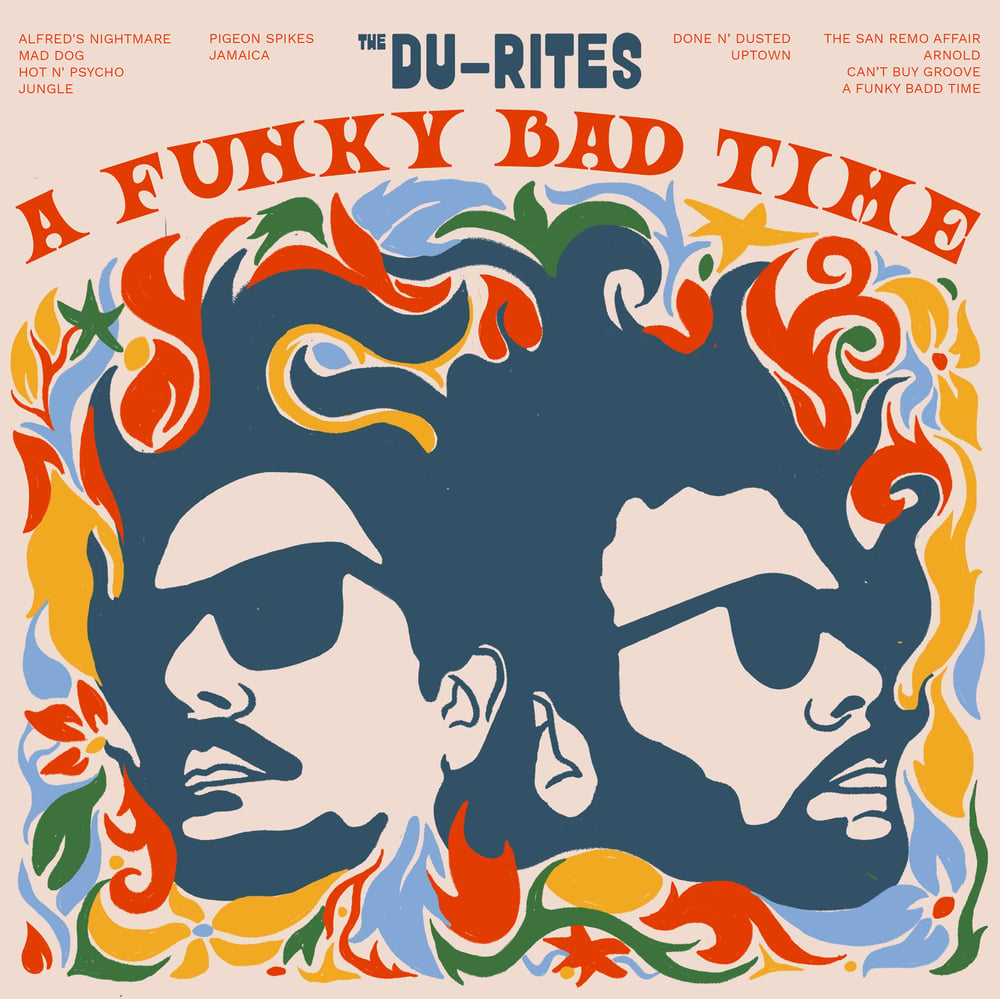 A Funky Bad Time - Vinyl LP
by The Du-Rites
$

22.00
---
---
When life is good, it's good. When life is bad, it's bad. But when it gets so bad you get the blues, life gets funky. And by the looks of 2020, The Du-Rites have no choice but to be funkier than ever before on A Funky Bad Time, the NYC duo's fifth album in five years.
Multi-instrumentalists Jay "J-Zone" Mumford (drums, keyboards, percussion, occasional vocals) and Pablo Martin (guitar, bass, keyboards) were in the midst of transitioning their studio chemistry into a live act. Their previous album, 2019's Soundcheck at 6, was recorded live, and a January 2020 gig opening for The Skatalites at Brooklyn Bowl set things down the right path. Then the world was swept by a pandemic, canceling all plans. But with much worse ahead, a derailment of plans seemed minor in comparison. As the domino effect of turmoil continued into the spring, Jay and Pablo retreated to their home studios and put together a relentlessly funky, dark and nasty album, channeling the sting of a world in chaos and maintaining their own sanity through its creation. In a perfect example of "when times are bad, you must be badder," the duo utilizes the chaos as fuel to be emotionally funkier than ever before. A Funky Bad Time by default becomes the most unique and focused release in the band's catalog; a product of unprecedented times, set to an otherworldly backdrop their four prior releases just didn't have.
"Uptown" and "Jamaica" are not only Pablo and Jay's NYC neighborhoods, respectively - they're the cinematic, moody bookends to an album full of pandemic-fueled funk that goes from bedlam ("Jungle"); to apocalypse ("The San Remo Affair"); to funky blues ("A Funky Bad Time (With Double D's)". But things never go so dark that The Du-Rites lose their tongue-in-cheek humor, which is the Tylenol for tough times. "Can't Buy Groove" is a grease-covered funk nugget poking fun at amateur musicians buying expensive gear. The playful "Hot N' Psycho" humorously sees an old man with a Cadillac attempt to flirt in the face of cancel culture and "Done N' Dusted" is a peek into what rehearsals actually sounded like pre-social distancing, when Jay and Pablo could only play one instrument at a time without the aid of multi-tracking.
With on-record credits playing behind artists as wide-ranging as Eddie Palmieri, Ghostface Killah and Robert Glasper (as The Du-Rites) and Tom Tom Club, Broken Bells, Danger Mouse & Karen O, Michael Kiwanuka and Lord Finesse (individually), Jay and Pablo's playing and composing chops cut through the limitations and darkness of our current world for the funkiest 35 minutes of 2020.
Track Listing:
1. Uptown
2. Cant Buy Groove
3. Arnold
4. Hot N' Psycho
5. Done N' Dusted
6. Jungle
7. The San Remo Affair
8. A Funky Badd Time (With A Double D)
9. Pigeon Spikes
10. Mad Dog
11. Alfred's Nightmare
12. Jamaica